Langley Federal Credit Union Awards $20,000 in College Scholarships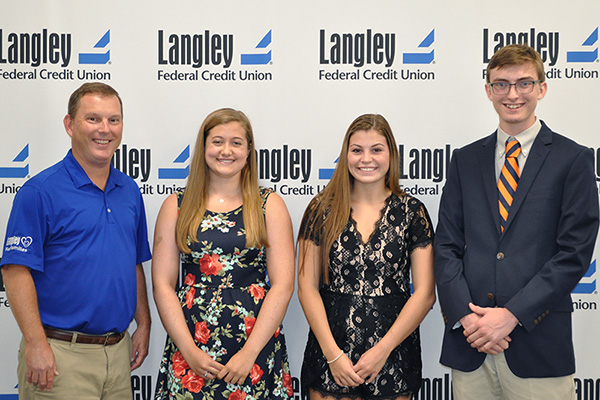 Langley President/CEO Tom Ryan with the 2018 Jean M. Yokum Scholarship recipients.
Langley Federal Credit Union presented four deserving young members with the Jean M. Yokum $5,000 College Scholarship award for academic achievement. The four winners are Megan Cooker, Daniel Prohaska, Gabriella Crooks and Taylor Sharp. The four recipients were selected from 84 applicants competing for the award this year.
Megan Cooker graduated from York High School and plans to attend the University of North Carolina at Greensboro where she will study Nursing.
Daniel Prohaska graduated from Norfolk Academy. He plans to pursue a career in Computer Science at the Georgia Institute of Technology.
Gabriella Crooks graduated from Woodside High School. She will attend the University of Southern California where she intends to study Psychology and Pre-Med.
Taylor Sharp graduated from Gloucester High School and will attend Virginia Tech where she plans to pursue a degree in Biology.
The Jean M. Yokum College Scholarships are awarded to successful applicants who are members of Langley's Constellation Club. The club is designed for youth through the age of 18 and provides a tool for parents to teach their children the importance of financial responsibility.