Langley Federal Credit Union Donates $11,000 to Domestic Violence Agencies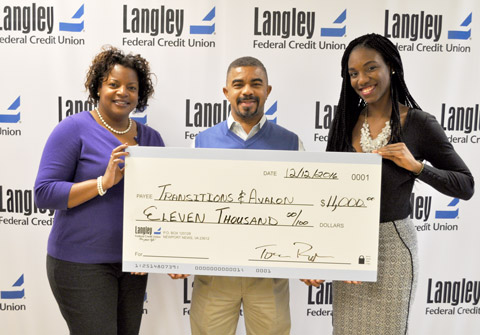 Pictured left-right: Glenda Turner, Avalon Board Member and Busch Gardens Marketing Manager, Gary Hunter, Langley AVP of Corporate Relations; & Sanu Dieng, Transitions Executive Director
NEWPORT NEWS, VA – Langley Federal Credit Union donated $5,500 each to Avalon Center for Women & Children and Transitions Family Violence Services. The funds will be used to provide emergency shelter, services and programs for victims of domestic violence in Hampton, Newport News, Poquoson, York County and Williamsburg.
"These organizations were chosen because of their dedication to providing emergency and transitional housing for those who are less fortunate or find themselves in a situation where they need shelter," said Langley AVP Corporate Relations Gary Hunter.
Avalon and Transitions work to end domestic violence by breaking the cycle of abuse through prevention, education, shelter and support services on the Virginia Peninsula. To learn more about Avalon, visit avaloncenter.org. To learn more about Transitions Family Violence Services visit transitionsfvs.org.